Everyone! We have exciting news to share! The Kickstarter campaign for our mystery adventure We Stay Behind is now live! Head to Kickstarter to support the last development phase and secure some fantastic rewards! Yay, yay, yay!
We're launching a Kickstarter NOW!

The last weeks were very work-intensive for us. We spent a lot of time preparing the Kickstarter for our interactive mystery short story about repressed trauma and buried secrets.
And we're proud of what we've achieved – the campaign is full of love, and we came up with great rewards. There's a neat T-Shirt, a printed hiking map, a fantastic boxed version of the game with lots of goodies, and so much more! Not to mention all the ingame rewards: write an entry in the hotel book's guestbook, get your name on the evacuation lists, or even sponsor a bench in the National Park. So much good stuff. Check out the campaign website to snag one of the discounted early bird packages available for the first 48 hours of the campaign: https://www.kickstarter.com/projects/westaybehind/we-stay-behind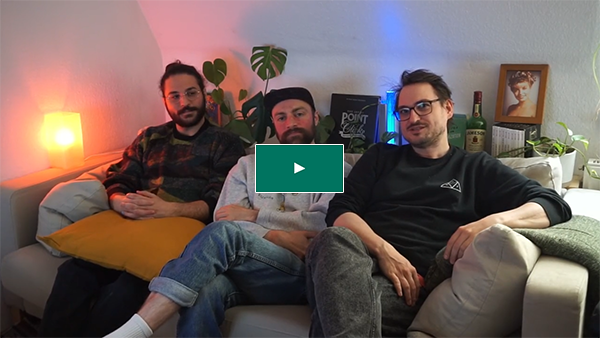 There's a brand-new demo on Steam!
There's more! To convey an impression of the game's current state, we put together a brand-new demo. In contrast to previous demos we released, this is the first one where you get to explore the National Park on the loose and get a much better feeling of how we imagine We Stay Behind to play and feel. Give it a try over at Steam! Remember to wishlist the game while you're there.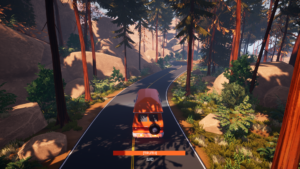 About the game
Folks in neighbouring towns say there's something in the water in Laburnum Creek. People there are either born strange or they drink in the strangeness after they arrive. It's unkind but maybe it's also true, because you'd think that when people hear a comet is on a collision course with their town they'd pack up and move out. But the folks in Laburnum Creek want to stay put. What could cause such a mass delusion? A cult? Mistrust of the government? Maybe it's just so damn lovely that dying really is preferable to leaving? Investigative journalist Laura Tanner wants to find out. And if she gets to soak up the natural beauty of one of the nation's prettiest national parks in the last few weeks before it gets obliterated, well that's a bittersweet little bonus.
As you guide Laura through Laburnum Creek's lakes and forests you'll meet curious characters and have outlandish encounters that will make you question what is real and what is illusory. Your choices will shape Laura's professional project, her journey of personal discovery, and at key points even transform the world around her. Are you ready to go into the woods with Laura and uncover this sleepy little town's big secret?